Does the snow awaken your desire for a romantic weekend getaway? Do you want to enjoy a romantic weekend this winter? Whether it is at a ski resort, an isolated chalet or an intimate spa, there are many places to spend time with your loved one. Here are some ideas for winter activities for perfect romantic weekend getaways.
In the middle of winter, there is nothing better than taking a few days to pamper yourself and your partner. Good thing since there are several ways to organize romantic weekend getaways to enjoy the snow as a couple.
A Weekend of Skiing as a Couple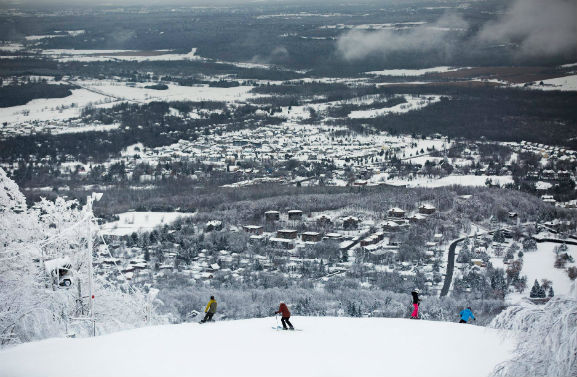 Source: Facebook Bromont, montagne d'expériences
Do you and your partner like thrills? When the first snowflakes fall, do you put on your skis to speed down the slopes? Why not spend a weekend exploring the slopes of Bromont or Sutton? When skiing or snowboarding, there are hundreds of trails to explore in Quebec. Take advantage of the fresh air to unwind and leave your worries behind. And after an intense day of skiing, you can relax by the fireplace, in a spa or in a cozy restaurant.
On Powski, take advantage of discounted ski tickets to return to your favourite ski resort or discover new resorts. You can even cross the border for a weekend of skiing in the United States!
A Weekend full of discoveries

Are you looking for something new to discover? Why not cross the border during a quick getaway, in order to discover a beautiful part of the United States? Vermont is beautiful, romantic and not too far away! You will find beautiful mountains for a weekend of skiing in the United States, but also good restaurants and charming cottages where you can relax. Among the interesting destinations in this region, Jay Peak is a great option. Think about it!
A Weekend to Take Your Time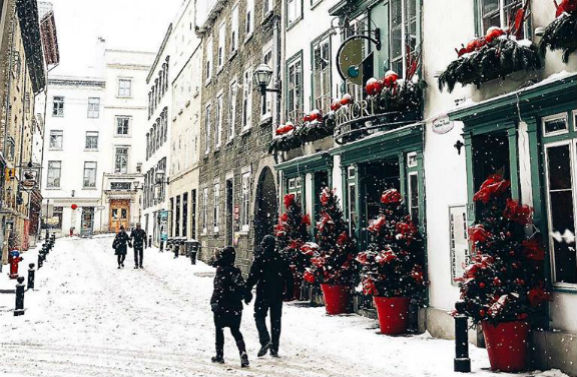 Source: Facebook Québec City Tourism
If you live a life that goes at 100km/h, take a break and organize a short stay in a city you don't know, or only know a little. Take the time to stroll through the snow-covered streets of Quebec City and visit the Château Frontenac, enjoy a sumptuous meal in a restaurant, go shopping in local shops, stop for a baked good (or two)... In short, unwind and enjoy yourself! Forget schedules and explore the world around you.
A Weekend to Relax at the Spa
Source: Strom Spa Nordique - Vieux Québec
Finally, what could be better than a weekend at the spa to recharge your batteries and tackle the end of winter? There is nothing better than relaxing in a jacuzzi when it is -10 degrees outside. Take advantage of your romantic getaway to enjoy a massage: Swedish massage, hot stone massage to promote muscle relaxation, couple massage, shiatsu, Lomi-Lomi...
Don't miss the discounts offered by Powski, perfect for booking a relaxing break at Strøm Spa. These facilities, offering massages and a spa experience, are available in four locations: Île-des-Sœurs, Mont-Saint-Hilaire, Sherbrooke and Vieux-Québec.
Valentine's Day is a great occasion to go away for a romantic weekend, but remember to relax together all winter long, whether it's for comforting massages or more exciting ski trips. The important thing is to relax and have fun together.
Like this article?
Share this article