After visiting Quebec ski resorts, do you dream of skiing in the United States? Maine, Vermont and New Hampshire are teeming with ski resorts that are easily accessible from Montreal and Quebec City. Cross the border and discover these 6 American ski resorts!
Smuggler's Notch, From the Ski Slopes to the Jacuzzi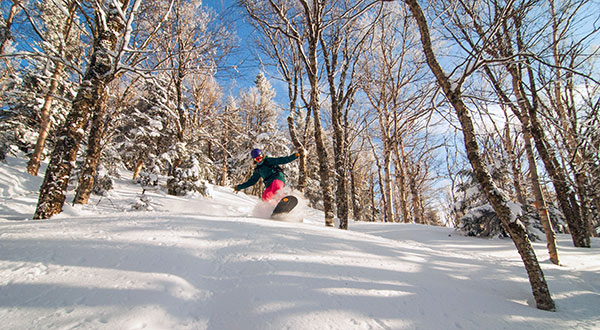 Source : Jim Deshler for Smuggler's Notch Resort
Located in Vermont, 4 hours from Quebec City and 2 hours from Montreal, Smuggler's Notch ski resort welcomes skiers and snowboarders on 78 trails for all levels. Thanks to the eight lifts, you lose less time between each descent and can fully enjoy the mountain.
You are not a ski enthusiast? No worries, the resort offers many other activities, such as snowshoeing or cross-country skiing, ice skating, tobogganing, snowmobiling... And after a day spent in the snow, you can relax in a heated pool or in one of the jacuzzis! Smuggler's Notch is the ideal destination to ski in the United States and will delight the whole family, whatever their desires. Take advantage of the discounts on the Powski website to buy your tickets for Smuggler's Notch.
Sugarloaf, for a Wide Range of Choices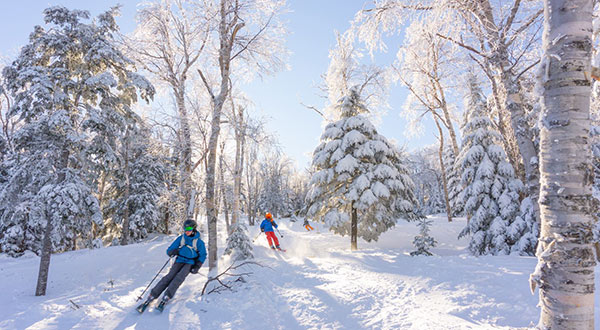 Source : Facebook Sugarloaf
We are familiar with the magnificent forests of Maine during the fall. But are you familiar with Sugarloaf Mountain, the second highest peak in the state after Katahdin Mountain? This makes Sugarloaf a perfect ski destination in the United States, with 1240 acres of skiable surface and 162 ski slopes. Explore the entire mountain with the 13 available lifts! Snowboarders will be delighted to discover the 4 snow parks, including Skybound for beginners, and the Drop Line, reserved for experts.
Do you want to get off the beaten track? The resort also offers Cat-Ski lifts: you and your friends take a seat in a snowmobile and climb to the top, where you can put on your skis and slide down the off-trail part of the mountain. Visit Powski's website to find out about discounts on tickets to Sugarloaf.
Killington, the Largest Ski Resort in the Eastern USA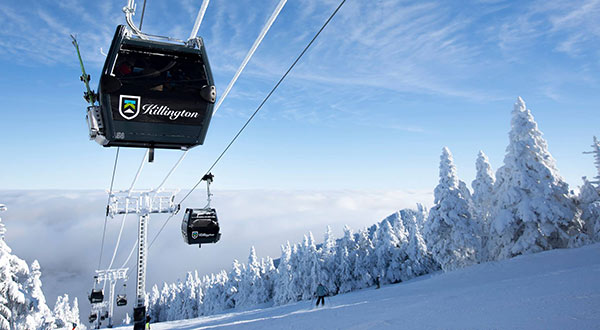 Source : Facebook Killington Ski Resort
Killington, 3h30 from Montreal, is Vermont's largest ski resort. No wonder they call her the "Beast of the East"! In addition to skiing, you can take snowmobile, snowshoe and snowscoot tours. And after a day of winter activities, relax with a massage in the resort's spa.
With 155 ski slopes and 6 snow parks, this Vermont ski resort should keep you busy for a long time. But the advantage of Killington is that if you've already explored the 1509 acres of skiable terrain, you can still venture into the nearby resort, Pico Mountain, where you'll discover 57 additional trails. Take advantage of the partnership with Powski to get discounted tickets to Killington.
Mad River Glen, a Unique Ski Resort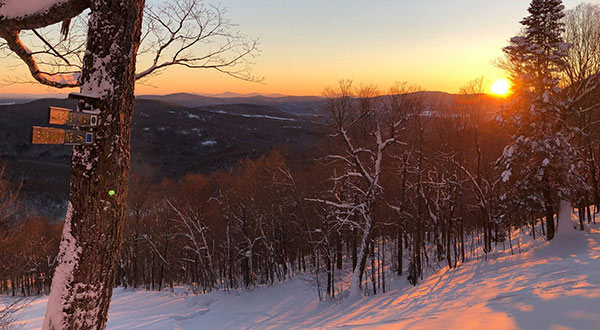 Source : Facebook Mad River Glen
Mad River Glen is an exception among ski resorts in the United States. Indeed, it is one of the three American resorts to ban snowboarding, as well as one of the only cooperatively managed resorts. Also, it has one of the last two one-place chairlifts in a U.S., the second being in Alaska.
Beyond these features, Mad River Glen is renowned for its natural snow trails and complex and challenging terrain. This resort will delight experienced skiers, but also beginners who will find safe slopes. Buy your ski tickets on Powski to benefit from discounts.
Burke, a Hidden Jewel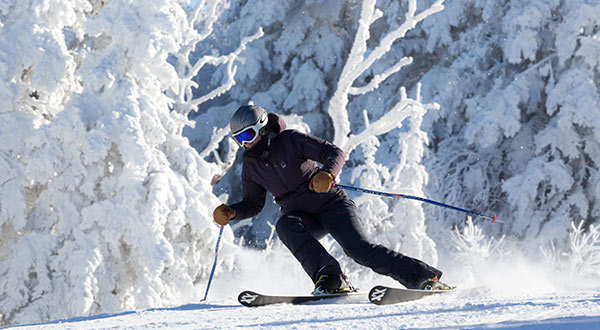 Source : Facebook Burke Mountain
Looking for a more intimate skiing experience? Burke Mountain ski resort is proud of its 55 slopes and its village located just at the foot of the slopes. Here, you can enjoy unencumbered ski slopes, a beautiful landscape and unspoilt glades. There are even three snow parks, from beginner to experienced, to allow enthusiasts to practice their jumps. Located in Vermont, less than 3 hours from Montreal, this resort is ideal for those who want to avoid crowds.
Take advantage of the discounts on the Powski website to buy your tickets for Burke Station.
Jay Peak, a Snowy Resort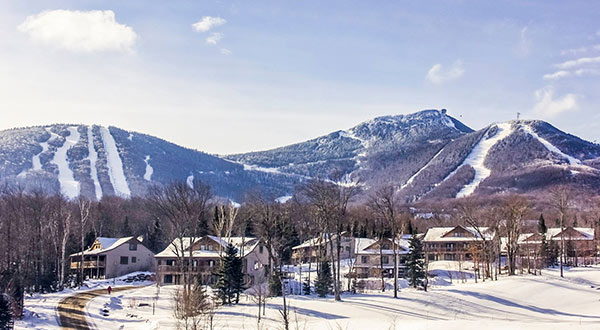 Source : Facebook Jay Peak Resort
If you are looking for fresh snow and beautiful powder slopes, you can always rely on Jay Peak! This ski resort is known for its very good snow conditions. If you desire to ski in the United States, choose Jay Peak and its 81 slopes of all levels, its 17 glades, as well as its 2 snowparks. You will also find a skiable difference in altitude of 656 metres, which promises steep slopes.
Located only 2 hours from Montreal, Jay Peak offers many activities for skiers, but also offers an introduction to fatbike, snowshoeing and cross-country skiing. Something to entertain the whole family... Take advantage of the discounts available on Powski to buy your tickets!
For a great skiing experience in the United States, you don't have to go too far. Only two or three hours by car, you will find ski resorts for all levels, from small family resorts to gigantic ones. One thing is certain, you will have a good winter season there!
Like this article?
Share this article