Do you want to explore the Laurentian ski slopes during this beautiful winter season? It must be said that between the resorts of Belle Neige, Avalanche, Chantecler and Ski Garceau, ski and snowboard enthusiasts will have enough to fill their weekends!
1) Belle Neige, The Family Ski Paradise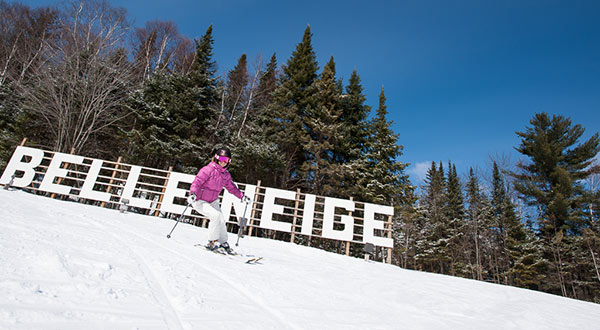 Source : Facebook Belle-Neige, photo d'Alain Denis
For more than 50 years, the Belle Neige ski resort has taken the time to listen to its visitors to offer them the best possible experience. Located just over an hour from Montreal, the resort offers 20 ski slopes for all levels, two of which pass through the glades. Children will feel perfectly at ease on the Sentier des Toutous, an introductory slope with more than 2000 plush toys and figurines! It is the ideal place to learn to ski or improve your skills.
Finally, thrill-seekers can have a great time in the snow park, where various modules await you for jumping and freestyle sessions, in complete safety. You will have plenty of time to exercise before you go for a hot drink on the terrace of the Bistro! Take advantage of its magnificent view of the slopes to take a well-deserved break. If you are interested in Belle-Neige station, good news: Powski allows you to get
discounted tickets
to this destination!
2) Avalanche, A Great Laurentian Ski Experience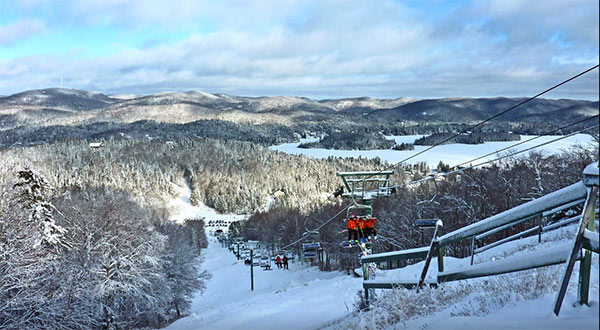 Source : Facebook Mont Avalanche
Want to have a great time mixing skiing and the Laurentians? With its 165 metres of altitude difference, the
Mont Avalanche
resort offers you a pretty view of the surrounding landscape. Take advantage of the 13 ski slopes and glades to show off your skiing and snowboarding skills! A triple chairlift serves the slopes, while a magic carpet will allow younger children to learn to ski.
And if skiing is not your first passion, why not take the time to learn about alpine ski touring or fatbike? Snowshoe enthusiasts will also have many trails to explore before warming up in front of the fireplace at the Avalanche bar.
3) Chantecler, Evening Skiing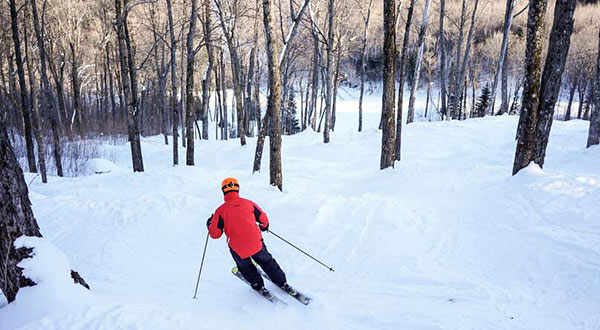 Source : Facebook Chantecler
With its 22 slopes, including 4 in the woods, the
Chantecler
resort offers a playground appreciated by skiers and snowboarders. Skiing in the Laurentians necessarily involves this resort, which has been continuously investing money since 1970 to improve its ski slopes, snow park and snow making. Take advantage of winter evenings to explore the resort's slopes, from Wednesday to Sunday until 9pm. The resort is also known to host the Ski Splash, during which participants must hurtle down a ski slope before attempting to cross the 90-foot water basin... without falling into it!
4) Ski Garceau And Its Central Park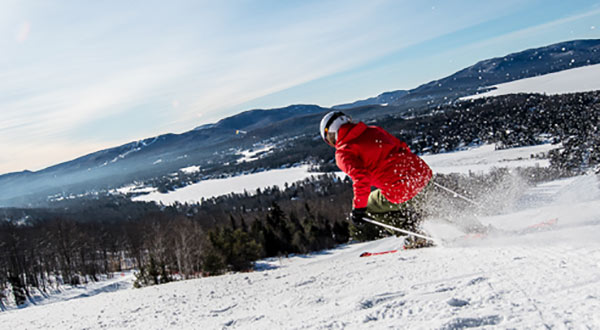 Source : Facebook Ski Garceau
With its 35 south-west facing slopes, in full sunlight, Garceau resort attracts many skiers eager for adventures and beautiful landscapes. Thanks to the two quad chairlifts, optimize your experience to ski down as many slopes as possible! As for jumping and freestyle enthusiasts, they will be delighted to discover Central Park and its 2 jumps and 7 modules manufactured by "Coastal Jib". The ideal place for more experienced athletes. For beginners or children who want to enjoy some thrills, Parc Hibou offers a fun, but safe course, with 9 modules and a jump.
Enjoy a magnificent view of the lakes surrounding Saint-Donat, trails of varying levels and a chalet/bar to spend a pleasant day with family or friends. It is one of the most pleasant ski resorts in the Laurentians and enjoy a discount on your ticket to
Ski Garceau
thanks to Powski.
Convinced by our Laurentian ski resort proposals? Take advantage of the discounts offered by Powski to go skiing, snowboarding or snowshoeing in one of these superb resorts. Young and old alike will appreciate this sporting outing, which could be comforting during a hot chocolate break!
Like this article?
Share this article